Waiting on Wednesday is Hosted by Jill @ Breaking The Spine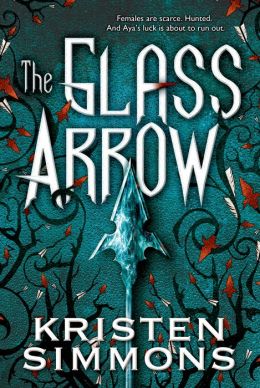 Goodreads Summary:

Once there was a time when men and women lived as equals, when girl babies were valued, and women could belong only to themselves. But that was ten generations ago. Now women are property, to be sold and owned and bred, while a strict census keeps their numbers manageable and under control. The best any girl can hope for is to end up as some man's forever wife, but most are simply sold and resold until they're all used up.

Only in the wilderness, away from the city, can true freedom be found. Aya has spent her whole life in the mountains, looking out for her family and hiding from the world, until the day the Trackers finally catch her.

Stolen from her home, and being groomed for auction, Aya is desperate to escape her fate and return to her family, but her only allies are a loyal wolf she's raised from a pup and a strange mute boy who may be her best hope for freedom . . . if she can truly trust him.

Glass Arrow: a haunting, yet hopeful, new novel from Kristen Simmons, the author of the popular Article 5 trilogy.
Why I'm Waiting For It:
I absolutely love the cover! It's both simple and clean, but it has such a good representation of what the book is about. Plus, I'm digging the green blue cover also!
The book was also blurbed as being The Handmaiden's Tale meets Blood Red Road, so I'm definitely interested and I need to pick up both books soon.
I also like the plot and it sounds really intriguing. A loyal wolf and people tracking Aya? Sounds great, I'll definitely be looking forward to reading this one :)
The Glass Arrow by Kristen Simmons hits shelves Feburary 10, 2015!
Find The Glass Arrow On:
Amazon | Barnes and Noble | Goodreads