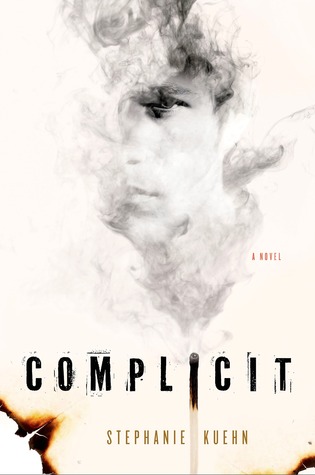 Complicit by Stephanie Kuehn
Date Released: June24, 2014
Publisher: St. Martin's Griffin
Pages: 256 pages
Format: Hardcover
Source: Library
Rating: 3.5 out of 5 Stars (Really Liked)
Series: Standalone!
Goodreads Synopsis:
Two years ago, sixteen-year-old Jamie Henry breathed a sigh of relief when a judge sentenced his older sister to juvenile detention for burning down their neighbor's fancy horse barn. The whole town did. Because Crazy Cate Henry used to be a nice girl. Until she did a lot of bad things. Like drinking. And stealing. And lying. Like playing weird mind games in the woods with other children. Like making sure she always got her way. Or else.

But today Cate got out. And now she's coming back for Jamie.

Because more than anything, Cate Henry needs her little brother to know the truth about their past. A truth she's kept hidden for years. A truth she's not supposed to tell.

Trust nothing and no one as you race toward the explosive conclusion of this gripping psychological thriller from the William C. Morris Award-winning author of Charm & Strange.
Complicit
by Stephanie Kuehn was one of those books that totally mess with your brain and your emotions. Simple and straightforward, Complicit was a likeable book that was definitely bizarre and rare, it had a couple surprises throughout the books and it was a good one.
Complicit
is about Jamie Henry, a 16 year old boy that had a very unfortunate life. 2 years ago, he was happy that his older sister was sentenced to jail because of all the bad things she did. But now she's back and she's back for Jamie. The whole plot and concept of the book was really interesting. I was intrigued the whole time reading and it was easy to get into Jamie's story, you could definitely feel what he went through. Jamie was a great character and it was interesting seeing him deal with his sister, his girlfriend, and his mom.
The book did suffer lack of characterization and one notedes (does that make sense?)
Jamie at times felt one note and stale and so did the plot. Since Complicit was a character driven book and when the characters were not up to standards, the book felt flat.
One thing that Complicit had that set it apart from one of those "mysterious-YA books" was the ending and the piecing of everything. The moment I found out how everything was connected I was like:
It was SO EXPLOSIVE! I did not expect it at all! Kuehn definitely had the element of surprise on her side.
Definitely pick up Complicit if your looking for a book that will surprise you! It may not be for everyone, but definitely give it a try!
Find Complicit On: