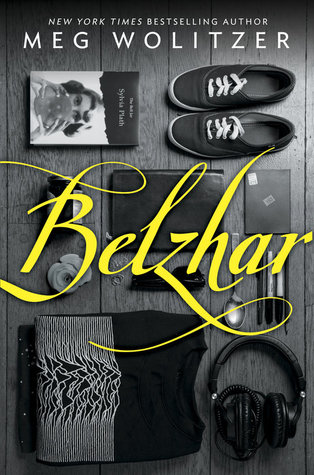 Belzhar by Meg Wolitzer
Date Released: September 30, 2014
Publisher: Dutton Juvenile
Pages: 264 pages
Format: ARC
Source: From Jen @ YA Romantics! (Thanks!)
Rating: LOVED IT (4 out of 5 Stars)
Series: Standalone!
Goodreads Synopsis:
If life were fair, Jam Gallahue would still be at home in New Jersey with her sweet British boyfriend, Reeve Maxfield. She'd be watching old comedy sketches with him. She'd be kissing him in the library stacks.

She certainly wouldn't be at The Wooden Barn, a therapeutic boarding school in rural Vermont, living with a weird roommate, and signed up for an exclusive, mysterious class called Special Topics in English.

But life isn't fair, and Reeve Maxfield is dead.

Until a journal-writing assignment leads Jam to Belzhar, where the untainted past is restored, and Jam can feel Reeve's arms around her once again. But there are hidden truths on Jam's path to reclaim her loss.

From New York Times bestselling author Meg Wolitzer comes a breathtaking and surprising story about first love, deep sorrow, and the power of acceptance.
First off before my review, I want to thank Jen @ YA Romantics for sending me a copy of Belzhar! Thanks so much!
I was definitely drawn into reading Belzhar because of the book cover, it was so interesting and complex, I knew I had to pick it up ASAP! Belzhar by Meg Wolitzer was fresh, intense, and emotional it is definitely a book you need to read yourself to experience it.
Belzhar begins with
Jam Gallahue being sent to The Wooden Barn, a special
therapeutic boarding school in rural Vermont. In The Wooden Barn, she is part of a class called Special Topics were students that come out of the class felt changed and different about themselves. Jam is one of the students in the class and she does not know why she is part of it. As the story moves on, students in the Special Topics class have to read The Bell Jar by Slyvia Plath and write in their journal. The tension and supense kicks up and Wolitzer will stun you with how an amazing book she has written.
Besides the cover and title, Belzhar drew me in because of it's plot. It was simple, straightforward, and even had flashbacks to Jam's life before the school, it all was so clear to read. Jam was such a opening character and you could definitely feel the emotions she was going through. All the other characters, such as the students in Jam's Special Topics class: Sierra, Matt, etc all had such a complex story it was amazing just reading it. You feel for every character and the experience they went through! So much feels!
Another aspect of Belzhar that appealed to me was its action. While there may not have been guns and stabbing, there was suspense and tension in all of the character's stories. Wolitzer definitely had the perfect writing for this book and she hits everything that appeals to a reader's emotions.
Definitely pick this one up! Belzhar was unique and unusual and that is what made reading it fun and exciting. Try this one now!
Find Belzhar On: