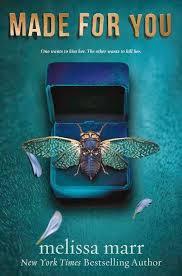 Made for You by Melissa Marr
Date Released: September 16, 2014
Publisher: HarperCollins
Pages: 356 pages
Format: Hardcover
Source: For Review (Thanks!)
Rating: Liked (3.5 Stars out of 5 Stars)
Series: Standalone
Goodreads Synopsis:
Bestselling author of the Wicked Lovely books Melissa Marr's first contemporary YA novel is a twisted southern gothic tale of obsession, romance, and murder. A killer is obsessed with Eva Tilling. Can she stop him, or will he claim her?

When Eva Tilling wakes up in the hospital, she's confused—who in her sleepy little North Carolina town could have hit her with their car? And why? But before she can consider the question, she finds that she's awoken with a strange new skill: the ability to foresee people's deaths when they touch her. While she is recovering from the hit-and-run, Nate, an old flame, reappears, and the two must traverse their rocky past as they figure out how to use Eva's power to keep her friends—and themselves—alive. But while Eva and Nate grow closer, the killer grows increasingly frantic in his attempt to get to Eva.

For the first time, New York Times bestselling author Melissa Marr has applied her extraordinary talent to contemporary realism. Chilling twists, unrequited obsession, and high-stakes romance drive this Gothic, racy thriller—a story of small-town oppression and salvation. Melissa's fans, and every YA reader, will find its wild ride enthralling.
Made For You
by Melissa Marr was a big "trend" book in 2014. It had all the elements for hype - suspense, a serial killer, and a touch of contemporary it did deliver on some parts. It was a good book, but it wasn't memorable or super thrilling. Overall, I really liked reading the book and it was excited seeing how the whole thing came together.
Made for You is about a girl named Eva Tilling that was hit intentionally but a mysterious person and she lands in the hospital. As she gets better, the whole town is abuzz about who tried to kill her and Eva soon develops a skill -
the ability to foresee people's deaths when they touch her. It also brings her closer to Nate, an old friend who's feelings for Eva soon spark. I thought the whole book had a very intriguiing and fresh idea. I liked how the book was very fast to start and things wents on a roll. Marr really hit it on point with the story and plot, but her characters failed.
Eva was a good character, but I was expecting so much more out of her. I liked the way she told her flashbacks when she touched an item and it was vivid and clear. I expected Eva to be more colorful and characterized more. She started to be a stale cracker for me towards the end of the book. I liked Nate, he really gave something more to Eva and the story and his relationship was interesting.
I absolutely loved the action and suspense scenes in Made For You! It was clear and action - packed, I loved every second of it! Marr definitely knows how to write killer action scenes and the book showcased them perfectly. In addition, I also loved how the book pieced everything together. The visions with the killings and Eva's ability. The ending was the strongest part of the book and any reader would have not guessed the ending at all!
Be sure to pick up Made For You! It was an intriguing and clever book and I hope you guys pick it up!
Find Made For You On: