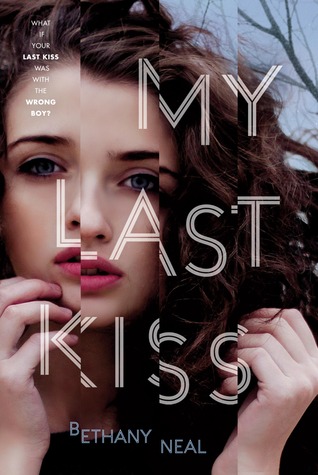 My Last Kiss by Bethany Neal
Date Released: June 10, 2014
Publisher: Farrar, Straus and Giroux
Pages: 358 pages
Format: ARC
Source: From TeenReads!
Rating: Ehh, okay
Series: Standalone
Goodreads Synopsis:
What if your last kiss was with the wrong boy?

Cassidy Haines remembers her first kiss vividly. It was on the old covered bridge the summer before her freshman year with her boyfriend of three years, Ethan Keys. But her last kiss--the one she shared with someone at her seventeenth birthday party the night she died--is a blur. Cassidy is trapped in the living world, not only mourning the loss of her human body, but left with the grim suspicion that her untimely death wasn't a suicide as everyone assumes. She can't remember anything from the weeks leading up to her birthday and she's worried that she may have betrayed her boyfriend.

If Cassidy is to uncover the truth about that fateful night and make amends with the only boy she'll ever love, she must face her past and all the decisions she made--good and bad--that led to her last kiss.

Bethany Neal's suspenseful debut novel is about the power of first love and the haunting lies that threaten to tear it apart.
My Last Kiss by Bethany Neal was a surprising read for me. I was expecting a strong, YA contemporary instead I got a very slow paced novel with a main character that lacked finesse and excitement. Even with a focused storyline, Bethany Neal didn't hit my notes for making this a great novel. I really wanted to love this one, but I didn't enjoy it as much. I kept saying "What?" "What is going on?"
For Cassidy Haines, the past comes back in more ways than one. Ever since her tragic fall on a bridge on her birthday party she is trying to piece back how she died. With the help of her friends and boyfriend, Ethan, Cassidy tries to fix the past. I'll admit, I loved the story line a lot. The whole concept of the book was nice and it did remind me of The Lovely Bones and a bit of Touching the Surface by Kimberly Sabatini. Cassidy was flat out one of the most borriest characters I read. There was honestly nothing that she had the gripped me into the story. I was expecting a lot more and it didn't deliver for me. Everything was good in general, but it needed something to bring the whole book together.
Usually in ghost stories, it either is a contemporary or a paranormal book. I found My Last Kiss to be so slow! For me, I felt like it went around in circles. Cassidy in the present as a ghost then Cassidy in the past alive. Then there's scenes where all her friends try to solve the puzzle. And I got so lost and confused. And as I approached the ending, I did kinda put the pieces together.
Overall, My Last Kiss was an okay book. Not a gem for me but definitely pick this one up if you like The Lovely Bones or Touching the Surface by Kimberly Sabatini!