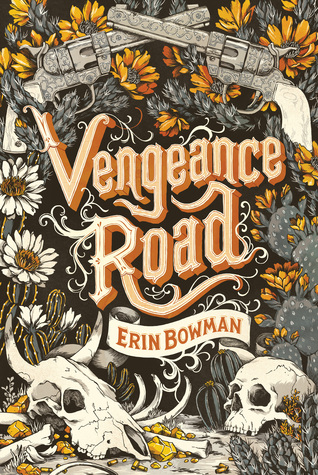 Vengeance
Road by Erin Bowman
Date Released: September 1, 2015
Publisher:
HMH Books for Young Readers
Pages: 336 pages
Format: ARC
Source: For Review From Teenboard
Rating: 3.5 Stars
Series: Standalone!
Goodreads Synopsis:
When Kate Thompson's father is killed by the notorious Rose Riders for a mysterious journal that reveals the secret location of a gold mine, the eighteen-year-old disguises herself as a boy and takes to the gritty plains looking for answers and justice. What she finds are devious strangers, dust storms, and a pair of brothers who refuse to quit riding in her shadow. But as Kate gets closer to the secrets about her family, she gets closer to the truth about herself and must decide if there's room for love in a heart so full of hate.
In the spirit of
True Grit
, the cutthroat days of the Wild West come to life for a new generation.
Thrilling. Racing. Action packed. Vengeance Road by Erin Bowman was a great novel that was so unique and fresh, I enjoyed reading it. Featuring a strong protagonist with a passion driving her around the dry, hot desert of the West.
The novel begins with Kate Thompson, who is disguised as Nate Thompson in hopes of finding her father's journal. Her father was killed by the Rose Riders and now Kate has no one left but herself. She was a strong, fierce character is absolutely radiated off the pages. She has one goal and she achieves it. While there is tons of action and suspense in the novel, Bowman balances it with a growing romance between Kate and Jesse. She introduces two guys: Jesse and Will that help her on her path to vengeance and I enjoyed seeing how they worked together. I thought Kate and Jesse were great for each other and I love the companionship they each had for one another. The novel may have a small cast of characters, Bowman does a fantastic job weaving in the Rose Riders, the wild West, and Kate.
One thing that stood out from the novel that I enjoyed was the ending of the novel. It took me by surprise! Bowman mind blows you with a twist that I did not see coming at all. The least I could say was that it was suspenseful! I love how the book came together and it was well done :)
Overall, Vengeance Road was a great novel. I do wish the novel was more complex in terms of Kate as a character overall and her family relations. But that being said, it was still a fantastic novel that will have you looking at the West in a whole new light.