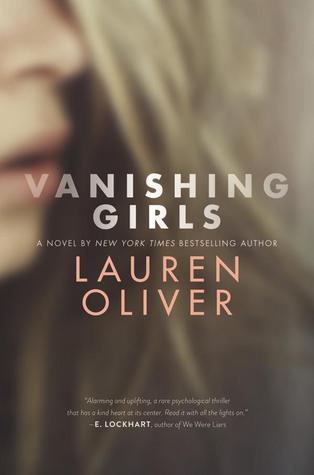 Vanishing Girls by Lauren Oliver
Date Released: March 10, 2015
Publisher: HarperCollins
Pages: 368 pages
Format: ARC
Source: From Publisher (Thanks!)
Rating: LOVED It (5 Stars out of 5 Stars)
Series: Standalone!
Goodreads Synopsis:
New York Times bestselling author Lauren Oliver delivers a gripping story about two sisters inexorably altered by a terrible accident.

Dara and Nick used to be inseparable, but that was before the accident that left Dara's beautiful face scarred and the two sisters totally estranged. When Dara vanishes on her birthday, Nick thinks Dara is just playing around. But another girl, nine-year-old Madeline Snow, has vanished, too, and Nick becomes increasingly convinced that the two disappearances are linked. Now Nick has to find her sister, before it's too late.

In this edgy and compelling novel, Lauren Oliver creates a world of intrigue, loss, and suspicion as two sisters search to find themselves, and each other.

"Alarming and uplifting, a rare psychological thriller that has a kind heart at its center. Read it with all the lights on." --E. Lockhart, author of We Were Liars
Vanishing Girls
was hands down one of the most poignant and powerful books I read
year. Wow..I'm still blown away honestly.
Vanishing Girls may look like you typical YA/Contemporary book but beneath it all is an intricate story. Sisters, Nick and Dara, used to be so close to each other until Dara vanishes on her birthday. Nick thinks Dara is playing with her, but when Madeline Snow also vanishes, she knows something serious is going on. Oliver
was able to effortlessly bring in suspenseful elements along with loss and love that ultimately created an amazing book.
Nick and Dara were really intriguing right off the bat. The book was divided between the two sisters and the past and present. It may have gotten confusing at times, but I was actually able to distinguish the two. I really bonded with Nick while reading, because she had a strong perseverance not to give up to find Dara. She goes through so much trying to find out what really happens to Dara, you could easily feel all the emotions she went through. Dara on the other hand, was a big mess for me. She needed to get her whole act straightened out and needed to stop playing games. I kinda felt a "Boy Who Cried Wolf" vibe from her because she would start these games and end up safe and normal. Oliver created such dynamic characters that really contrasted with each other that worked well.
I loooveed the suspense part of the novel. It was heart-pounding when Nick was piecing all the clues about Dara. The ending had me on an emotional roller coaster, be prepared!
As the whole book comes together, you feel for all the characters especially Nick and Dara!
I have a feeling this book would do great as a movie (wouldn't it?? Tell me below!)
Overall, Vanishing Girls was a refreshing addition to the every expanding world of YA books. Oliver hits a home run with her emotional characters, a suspenseful plot, and a deep message about family, relationships, and love. Pick this one up!
Find Vanishing Girls On: