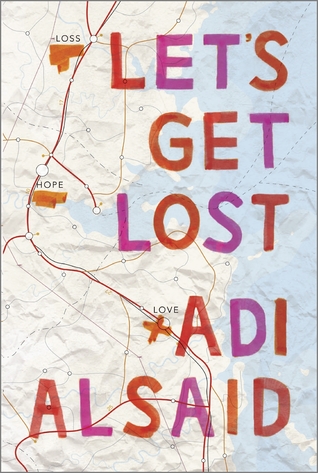 Let's Get Lost by Adi Alsaid
Date Released: July 29, 2014
Publisher: Harlequin Teen
Pages: 352 pages
Format: Hardcover
Source: Library
Rating: (3.5 Stars out of 5 Stars)
Series: Standalone!
Goodreads Synopsis:
Five strangers. Countless adventures. One epic way to get lost.

Four teens across the country have only one thing in common: a girl named LEILA. She crashes into their lives in her absurdly red car at the moment they need someone the most.

There's HUDSON, a small-town mechanic who is willing to throw away his dreams for true love. And BREE, a runaway who seizes every Tuesday—and a few stolen goods along the way. ELLIOT believes in happy endings…until his own life goes off-script. And SONIA worries that when she lost her boyfriend, she also lost the ability to love.

Hudson, Bree, Elliot and Sonia find a friend in Leila. And when Leila leaves them, their lives are forever changed. But it is during Leila's own 4,268-mile journey that she discovers the most important truth— sometimes, what you need most is right where you started. And maybe the only way to find what you're looking for is to get lost along the way.
Let's Get Lost by Adi Alsaid was the type of book you want to read in the car or like on a road trip to get the feel of it. I enjoyed reading Let's Get Lost and I definitely could relate to the characters and the whole story. It was moving and eye-opening and a book everyone should pick up!
One thing that struck out to me was how the book was divided into 5 parts. The main character, Leila is one her way to see the Northern Lights. Along the way, she manages to get into other peoples' lives. First she meets Hudson, a young man searching for romance. Then she meets Bree, who is always off doing crazy things to seize the day. Third, she meets Elliot, a young man that what about to have the best night of his life. Then lastly, Sonia, a girl who lost the feelings to love. Alsaid weaved such a moving book, I enjoyed reading about each character's story and how Leila helped them. Each character had their own story to tell and I think any reader could relate to anyone.
I disliked how at times the book moved Incredibly slow. Like honestly, some points were just plain boring and I was expecting it to be a bit faster. Especially in Sonia's story. While some stories were well-written, Sonia's was especially bland and boring. I definitely loved reading Elliot and Hudson, they were very authentic and relatable - the two things I look for in a book.
Overall, Let's Get Lost was a well-written, good contemporary novel, but safe. It's the kind you would pick up if you need to get out of a reading rut or if your about to hit a long drive to someplace. Be sure to check it out :)
Find Let's Get Lost On: