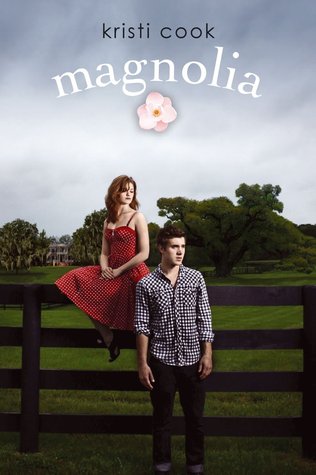 Magnolia by Kristi Cook
Date Released: August 5, 2014
Publisher: Simon and Schuster
Pages: 356 pages
Format: Paperback
Source: TeenBoard
Rating: (NEED ONE)
Series: Standalone!
Goodreads Synopsis:
In Magnolia Branch, Mississippi, the Cafferty and Marsden families are southern royalty. Neighbors since the Civil War, the families have shared vacations, holidays, backyard barbecues, and the overwhelming desire to unite their two clans by marriage. So when a baby boy and girl were born to the families at the same time, the perfect opportunity seemed to have finally arrived.

Jemma Cafferty and Ryder Marsden have no intention of giving in to their parents' wishes. They're only seventeen, for goodness' sake, not to mention that one little problem: They hate each other! Jemma can't stand Ryder's nauseating golden-boy persona, and Ryder would like nothing better than to pretend stubborn Jemma doesn't exist.

But when a violent storm ravages Magnolia Branch, it unearths Jemma's and Ryder's true feelings for each other as the two discover that the line between love and hate may be thin enough to risk crossing over
I honestly really enjoyed Magnolia by Kristi Cook from beginning to end! There was something about the characters to the survival-love aspect that had be hooked, and I'm pretty impressed Kristi managed to create a good realistic fiction book.
Definitely give this one a try!
What struck me about Magnolia that I really admired was the flow and ease of the plot and characters. Jemma McCafferty lives in Mississippi, where they have tons of storms every year. As she tries to find who she is and what she plans to do with her life, she doesn't know a storm will bring her even closer to her best childhood friend, Ryder. I felt the beginning of the book to be a little cliche. You know that best friend love romance stuff? That was here, but Cook brings her own take by adding a storm and I really enjoyed it. Magnolia was moving and it had me turning the pages to see how Jemma faced all things happening to her family and also her heart. The characters are warm and did feel real and the plot was great!
Magnolia could have been more complex, if Kristi gave Jemma the chance to get her to know Patrick, the boy she seems to get attracted to. It felt like somethings were rushed and some of the decisions of the characters were a throw. But Magnolia shines with Cook's simplistic writing alongside her warm characters, and I applaud her for trying moving away from the paranormal genre!
Magnolia was a great summer book, but you can definitely pick it anytime. The characters hits home and you'll be wrapped up in a warm, bittersweet story!
Find Magnolia On: