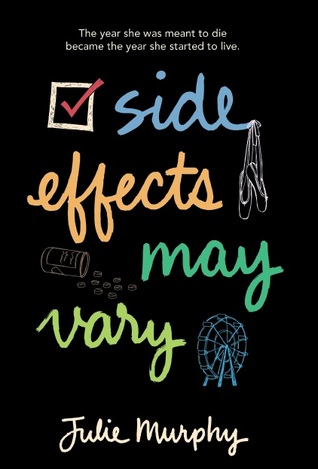 Side Effects May Vary by Julie Murphy
Date Released: March 18, 2014
Publisher: HarperCollins
Pages: 336 pages
Format: Hardcover
Source: Library
Rating: LOVED
Series: Standalone
Goodreads Synopsis:
What if you'd been living your life as if you were dying—only to find out that you had your whole future ahead of you?

When sixteen-year-old Alice is diagnosed with leukemia, her prognosis is grim. To maximize the time she does have, she vows to spend her final months righting wrongs—however she sees fit. She convinces her friend Harvey, who she knows has always had feelings for her, to help her with a crazy bucket list that's as much about revenge (humiliating her ex-boyfriend and getting back at her archnemesis) as it is about hope (doing something unexpectedly kind for a stranger). But just when Alice's scores are settled, she goes into remission.

Now Alice is forced to face the consequences of all that she's said and done, as well as her true feelings for Harvey. But has she caused irreparable damage to the people around her—and to the one person who matters most?

Julie Murphy's Side Effects May Vary is a fearless and moving tour de force about love, life, and facing your own mortality.
Side Effects May Vary
by Julie Murphy was a great, eye-opening book about treasuring every moment and living life to the fullest. I liked the take Murphy took on the topic of "cancer" and the dual POVs actually turned out great. Side Effects May Vary was an amazing debut and I fully recommend it to anyone in need of a good YA contemporary..and this one is definitely memorable!
In the book, we meet 16 year old Alice who has leukemia. In her last months, she tries to fix all the wrongs she did and make her last few month memorable. As Alice pieces back her life together from her besfriend, Harvey to family dynamics, she learns how important life is. I admired Alice a lot in the book. We see her in different lights since Murphy decided to do "Then" and "Now" chapters in the book. I liked the mission Alice set out to do and seeing how everything pieced together. Great characters and each one was memorable!
I'm glad that Side Effects May Vary didn't have that romance overdose. While we see Harvey deal with his feelings for Alice and Alice seeing her family fall apart, romance wasn't the main point, and I LIKED that a lot! It seems like a trend with YA authors, romance has to be the big aspect of the novel, but Murphy reinvented that and I really enjoyed it. Everything about Side Effects May Vary was stunning from it's cover to the little quotes even to it's bittersweet ending.
Everyone needs to pick this one up! Trust me, you'll definitely enjoy Alice's story of recovery!